"Did you know you wanted to become a Nurse?"
​
Whelp, honestly I have a hard time pin pointing the reason. Healthcare & Medical runs in my family. I actually have a 1/2 brother (who I never knew about until this past year) practicing as General Surgeon. I have 3 aunts who are nurses, a grandfather & uncle who are Dentists, etc. But, I did not have immediate family in my household working in healthcare.
The REAL STORY is....my dad took me to my University of Arizona (#beardown) New Student Orientation. I was Pre-Business at the time. We got to the orientation and 30 minutes into the orientation, we both fell ASLEEP! My dad literally looked at me and said, "Is this really what you want to do?" Well, we promptly left the auditorium & switched my degree to Pre-Nursing. Yep, that's what happened. LOL
​
On a more sentimental note, I had always been drawn to nursing. The idea of making a living making a difference in someones life everyday. That was the best decision I ever made, but it wasn't an easy journey for me.
​
​
​
DO NOT GIVE UP WHEN YOU MEET HARDSHIPS.
​
We need nurses who will go the extra mile,
push through fear, rejection, & Rigor.
Your future patients will thank you.
​
I have been a NICU nurse for 8+ years. I have had the most rewarding career anyone can ask for. I am lucky enough to LITERALLY save lives everyday. In addition, I have had several job opportunities come my way and work in several amazing Los Angeles & Orange County, CA based hospitals. I have worked with some of the most amazing NICU staff, made life-long friends, and worked with some of the most wonderful families, I believe placed in my life for a reason, etc.
​
Frequently Asked Questions
♡ FAVORITE PART OF BEING A NICU NURSE?
---
I love being a NICU nurse. I have a true passion for the neonatal patient population & helping families through the hardest time of their lives. (and sometimes babies with NO parents at all). From the addrenaline rush, procedures, attention to detail, and unpredictable patient population I love being on my toes with these babies. Pre-op, Post, op care, Cardiac, Neuro, GI/GU, it is so complex caring for such a complex patient population. I continue to improve my knowledge with classes, conferences, certifications, challenging myself at the beside & taking on new leadership roles etc. Three years into my career I sat for my national NICU Nurse certification. (RNC-NIC) (see NICU nurse Resources for detailed information) I also love the flexibility. I have worked full time nights, part-time, per diem, as a travel nurse and even changed units, working as a Pediatric Float nurse for a year. (NICU, PICU, CVICU, Oncology etc). Being a nurse offers different opportunities, schedules, specialties, and educational growth. After much time soul searching, networking, & seeing so many speciatlies, prvoders, brands etc. I decided to start a Podcast! I realized I had this huge network of providers, innovators, people of interest to bring to you! In addition, I value education & am working to advance my degree. I decided to make the leap and head back to school! I decided on the MSN route and am currently an MSN Capella University sponsored student. xo And this is the beauty of Nursing! There are so many opportinities out there!
---
♡ DID YOU GET A NICU JOB AS A NEW GRAD? DID YOU HAVE PRIOR EXPERIENCE?
---
YES. I was hired as a NICU New Grad Nurse & NO, I did not have prior nursing experience. I interviewed for several different Nurse Residency Programs all over California & Arizona. It took me 8 months to land my first job out of Nursing school. Didn't land a NCU job out of nursing school? That's ok! I know many nurses who started in the NICU after working in other units. (ED, L&D, Peds, PACU, Adult ICU, PICU, Oncology etc). (Side note: NICU was my "runner up unit," when I was applying to New Grad Nurse Positions) Initally, I wanted to start in Pediatric CVICU or CTICU (Cardiovascular or Cardiothoracic Units). However, I applied to NICU out of strategy (they were hiring more new grad nurses). Sometimes your runner up is Plan A all along!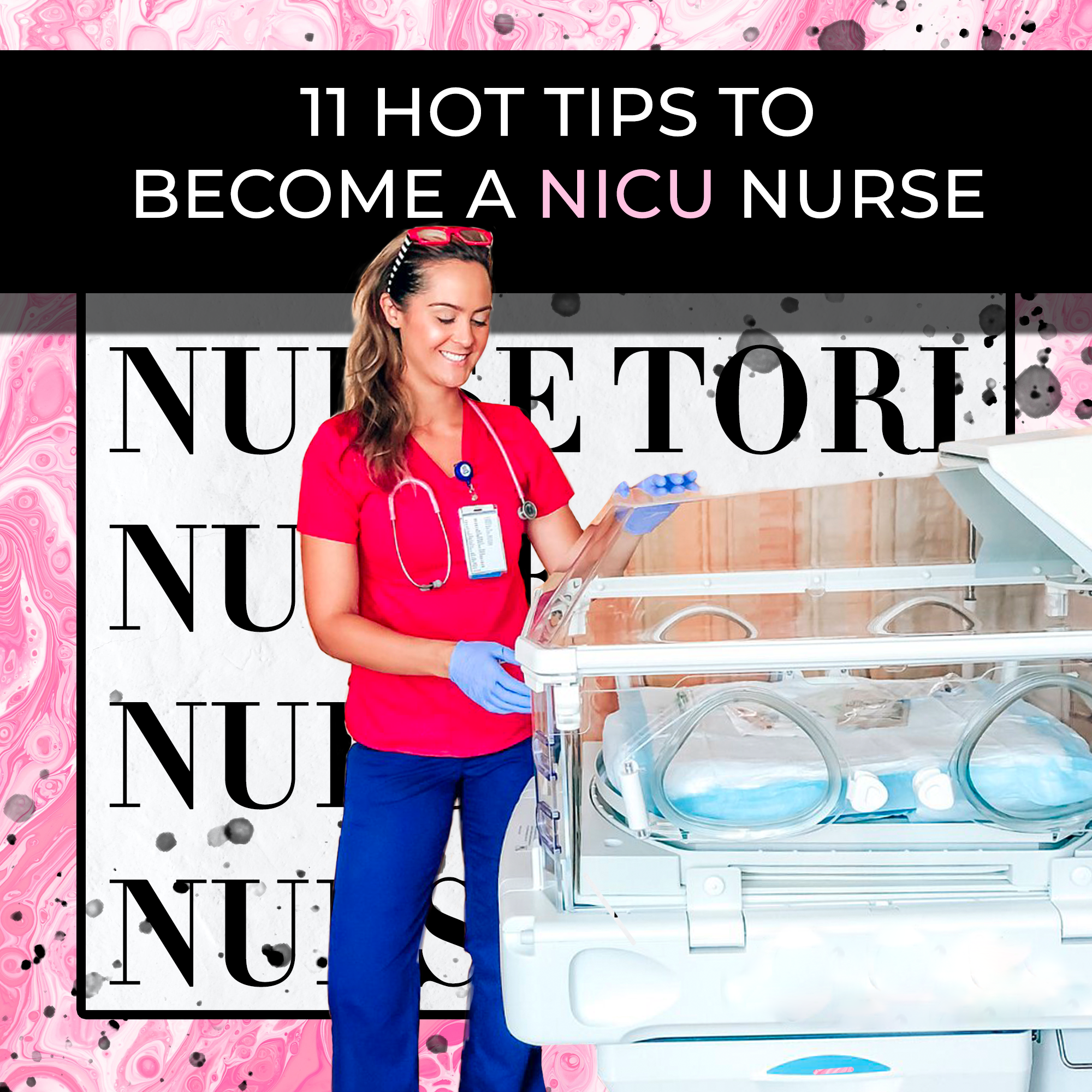 ---
♡ IS THE NICU A GOOD PLACE TO START AS A NEW GRAD, SHOULD I GET EXPERIENCE BEFORE APPLYING?
---
Yes, it is a great place to start as a New Grad Nurse! I loved my Nurse Residency Program and don't feel you need experience elsewhere before applying. However, I know plenty of amazong NICU nurses who trasnitioned from other units! (Adult ICU, L&D, Mother Baby units, PACU, OR, etc). In fact, when I was applying for jobs I truly thought I wanted to be a Cardiothoracic Pediatric Nurse. That was my passion! However, due to application process & job strategy. I opted to apply to NICU! (The NICU was hiring more New Grads.) I landed the job, discovered my love for my Preemie population & now, I have the opportunity to work with cardiothoracic patients within my level IV NICU! Best of both worlds. My point? You never know where you will land! And embrace your journey! You never know!
---
♡ WORK LIFE BALANCE, HOW DO YOU HANDLE THE STRESS?
---
Working as a Nurse (or in any Healthcare position for that matter) is one of the most rewarding and taxing jobs out there. We are in the business of curing and healing people. Quite honestly, it can be very draining. People are at their Best & Worst in our everyday job. We work with life & death. Life & then life support, the happiest & saddest of the human experiences. To be frank, it is a lot, both mentally & physically. At this point of my career I have learned boundaries. I do find ways to grow as a nurse. For example; I participate in committees, attend conferences, take classes, precept, take on projects, etc. However, I do have moments when I say "No." I learned this over time & with experience. (I went through a heavy "burnout" time period early on in my bedside career. 3 years in I was very "burned out," and I decided to make a change; this is when I took on my first travel assignment. That truly helped me rekindle my love for bedside!). Now, I enjoy my bedside care, studying to become a Family Nurse Practitioner, instagramming, blogging, creating a new business, time with my husband, family & friends, working out, riding horses, beach time, skiing etc. Find balance. That is my biggest pearl of wisdom. CHECK OUT MY BLOG POST ON "NICU NURSE 101" CHECK OUT MY PODCAST FULL OF NICU NURSE HOT TOPICS!!!
---
♡ IF I GO INTO NICU, WILL I LOOSE ALL MY SKILLS?
---
Well, frankly Yes. Working in the Neonatal population is very different than any other unit. (We don't do "BIG people") Our vital signs, medications, priorities of care, etc. all ALL different. Truly any unit, clinic, hospitcal, community setting you go into will be unique in its own way. There is no way to keep up with every skill (you only kind of learned) in nursing school or your home unit. But the beauty of nursing is you can always try something else! I have worked as a Travel Nurse & Pediatric Critical Care Float Nurse (CVICU, PICU, NICU, & Oncology) ! It is exciting to relearn about patient populations and update skills! If you decide you want to move on & try something new you can! Just because you "lost" your skill doesn't mean you can't learn it back. Nursing is like riding a bike. You just get back on and try it again.
---
♡ DO I NEED TO WORK IN MED SURG FIRST BEFORE APPLYING TO NICU?
---
NO!! This is another question I get quite often.You DO NOT NEED to work on the floors first! ICU vs Med Surg nursing are very different skill sets. After venturing the Los Angeles & Orange County CA areas, I can confidently say nursing is becoming more and more boutique, with specialized care. Therefore, if you know you want to go into the Neonatal Population (or any specialty for that matter), "DO IT!" This being said, it is a very competative market out there. It is often difficult to land your first job in a NICU Nurse Residency program. If you find yourself unable to land your first job there I have two pieces of advice. A FEW TIPS: ​​​​​​​ 1. First, embrace your journey! Everyone's path is different. Who knows where your personal nurse journey will lead you. 2. If you work for a while & find yourself miserable, take time to spruce up your resume & portfolio; research Nurse Transition programs or Fellowships & make some changes. 3. You may have to move or consider a life change but it is dueable.
---
♡ I WANT TO BE A NICU NURSE, NOT SURE WHERE TO START
---
Are you curious what it is like to be a NICU Nurse? How to become a NICU Nurse? Looking for Nurse Interview Tips & Tricks? CHECK OUT MY EXCLUSIVE NURSE CONTENT! These are my PREMIUM posts curated to help you in your Nurse journey! From NICU Nurse (modern day insight), to Nurse Interview Tricks, Portfolio curation, New Grad Nurse Tips, & everything in between, I have compiled all of my BEST content here for you to help land that dream job!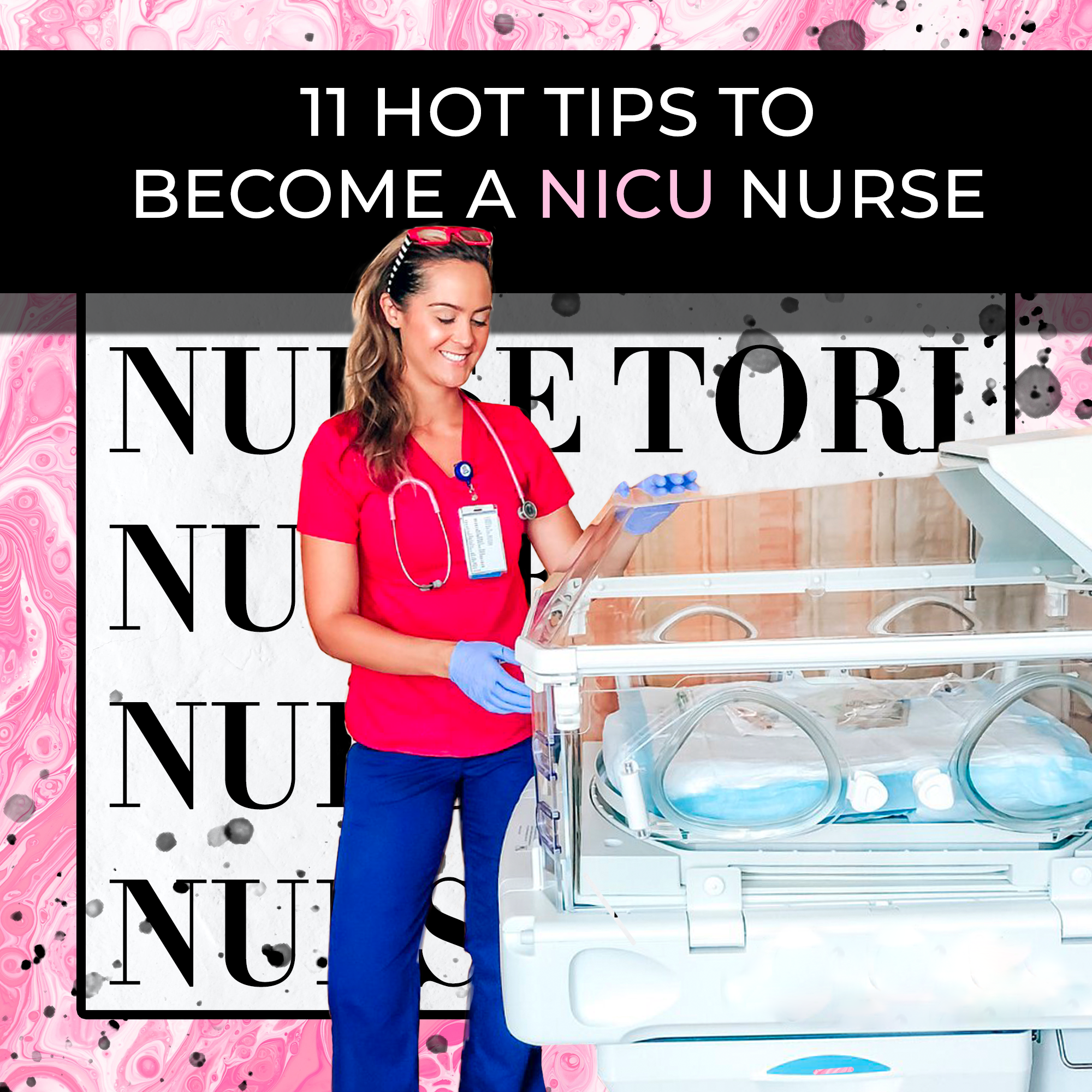 ---
♡ DO YOU HAVE ANY NEW GRAD NURSE POINTERS?
---
Too many to count! ✔ SKIP THE RESEARCH and gain instant access to the Exclusive NICU Nurse blogs full with proven strategies and actions steps to implement your nursing career now. ​ ♡ HOT TIPS TO BECOME A NICU NURSE ​ ♡ WHAT IS THE NICU REALLY LIKE? ​ ♡ NICU NURSE 101 ​ ♡ TIPS EVERY NEW NICU NURSE NEED TO KNOW!
---
♡ FROM ADULT TO NICU, DO YOU HAVE ANY POINTERS?
---
Prepare to feel like a New Grad again. And it's OK. NICU is truly its own world. Vital signs, medication, plan of care, priorities, emotions, treatments, diagnosis, etc. are all so different. I have been a NICU nurse for 6 years and STILL feel that way (especially working in a Level IV NICU setting. When the Norms are: Heart Rate: 100-200 (anything below 60 makes you break out in sweats) Respirations 10-100 (apnea is normal and always expected) FiO2 Sats: 85-100 (but sats of 50s are ok, as long as you have a heart rate lol) Temp: 36.5-37.5 C (anything outside of these are a big NO NO) NPASS: Pain Score 0-4 IV meds are in .01 ml (NO seriously. And your flush behind the med is technically a bolus) ALLL Plan of care is based on Gestsation & Weight Skin to skin is an essential part of your plan of care. HFOV (Oscillator) is your best friend Caffeine is you other best friend Poop is something you will celebrate. You know you are in the right place xo CHECK MY BLOG POST ON "NICU NURSE 101" FOR MORE INSIGHT!! CHECK OUT MY BLOG POST ON "NICU NURSE 101" CHECK OUT MY PODCAST FULL OF NICU NURSE HOT TOPICS!!!
---
♡ WHAT TYPES OF DIAGNOSIS DO YOU SEE IN THE NICU?
---
There are many reasons why a baby would end up in a NICU. As simple as dehydration from difficulty breast feeding to life threatening diagnosis or congenital diseases. Much of what NICU nurses experience at the bedside is determined by their NICU setting. (Level I-IV NICU). Diagnosis Include: Preemies, Micro-preemies, Respiratory Distress Syndrome (RDS), Heart Defects, Gastroschisis, Sepsis, Hypoglycemia, Intrauterine Growth Restriction (IUGR), Intraventricular Hemorrhage (IVH), Jaundice, Necrotizing Enterocolitis (NEC), Sepsis, Multiples (Twins, Triplets), Neonatal Abstinence Syndrome (NAS, drug addicted mothers), Unknown pregnancies, Precipitous birth, Placental Abruption, etc. Get instant access to the tools, resources & support you need to become a NICU Nurse!
---
♡ WHAT CERTIFICATIONS DO YOU NEED TO WORK AS A NICU NURSE?
---
To work bedside (as a NICU nurse) you need your Associates Degree in Nursing (ADN) or Bachelors of Science in Nursing (BSN). Bachelors (BSN) is becoming preferred for most positions. After two years of working in your specialty you can sit for your "certification." The most common NICU certification is RNC-NIC (this is the certification I obtained).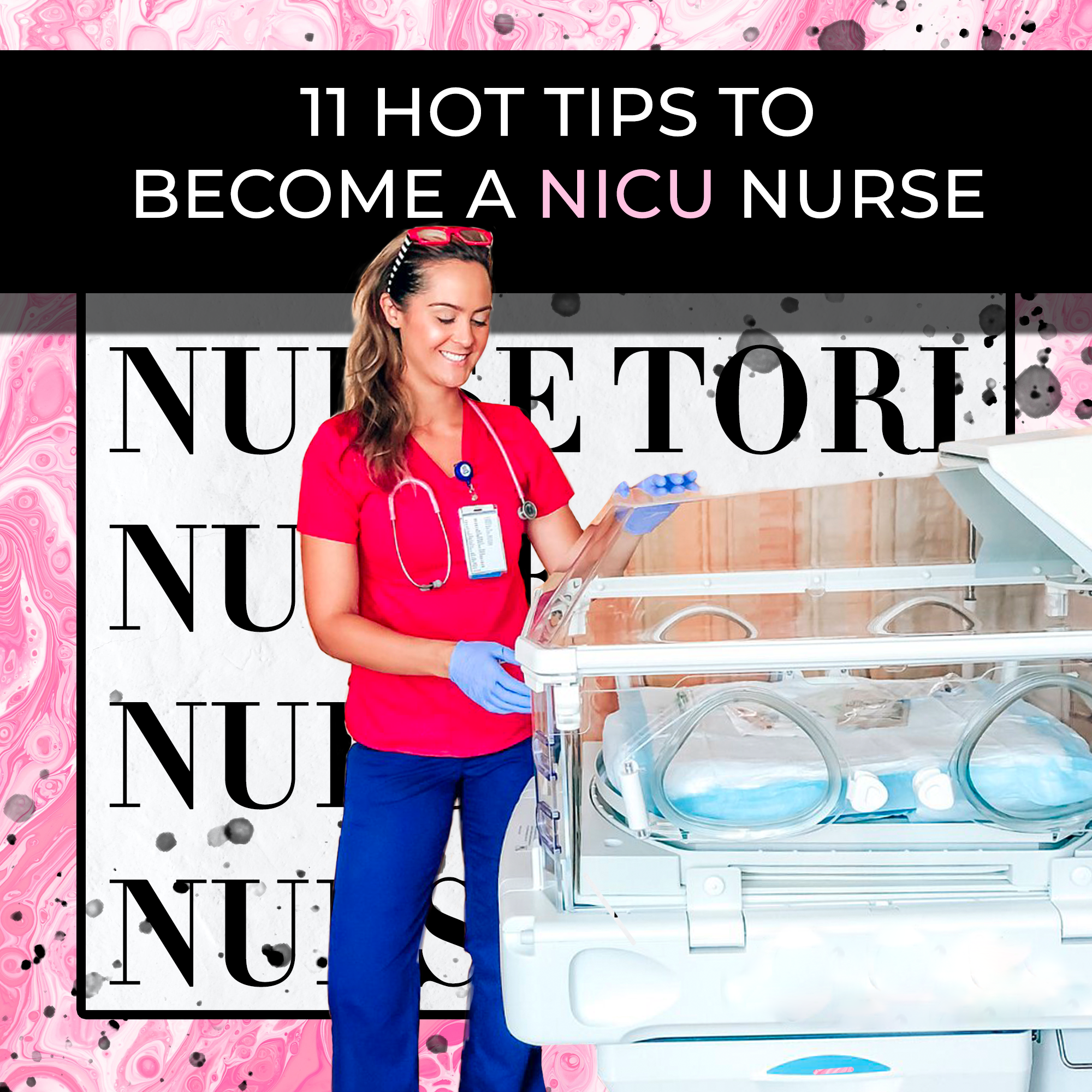 ---
♡ CAN YOU EXPLAIN THE RNC-NIC PROCESS?
---
I took my RNC-NIC after 3 years of experience. And if you know me, you understand how much I hated this. (I am a horrible student & test taker...but I did it, and so glad I did.) Nurses can take the RNC-NIC Certification for Neonatal Intensive Care Nursing via the National Certification Corporation (NCC). Learn more about the RNC Certification for Neonatal Intensive Care Nursing (RNC-NIC) in my EXCLUSIVE Nurse Content! ♡ NICU NURSE RESOURCES FOR NEW AND EXPERIENCED NURSES ​ ♡ WEBSITES / CERTIFICATIONS / BSN / MSN / NNP INSIGHT ​ ♡ NEW GRAD & EXPERIENCED NURSE TIPS TO LAND THAT DREAM JOB
---
♡ NURSE RESIDENCY PROGRAMS, YES OR NO?
---
Any time someone is PAYING you to learn, I say DO IT! Nurse Residencies "New Grad Programs" "Versant Program" are all paid transition programs from nursing school to the professional Nurse world. They are all slightly different types of programs but all basically the same idea. Get paid to learn your specialty. I loved my program & say YES DO IT.
---
♡ I AM 35+, IS IT TOO LATE TO BECOME A NURSE?
---
NO! I know plenty of nurses who made Nursing a second or third career! It takes 2-4 years to get through nursing school. (Pre-rec time included). If you become a nurse at 40, you still have 25+ years of work potential! I personally think some of the best nurses come into the industry with seasoned life experience. Life, family, ups & downs, that is what will make you relatable. ​​​​​​​ CHECK OUT MY BLOG POST ON "NICU NURSE 101" CHECK OUT MY PODCAST FULL OF NICU NURSE HOT TOPICS!!!
---
♡ I WORK IN ANOTHER UNIT, HOW DO I TRANSITION INTO NICU?
---
There are a few ways to tackle this!
How to Become a NICU (Neonatal Nurse)? I have curated several exclusive NICU Nurse Blogs with detailed insight on how to land a NICU job. We are in crazy times, therefore landing your job right now can be nerving. After looking online for some insight, I discovered A TON of DATED, and frankly INCORRECT blogs speaking on this manner. So, I thought I would set the story straight for you!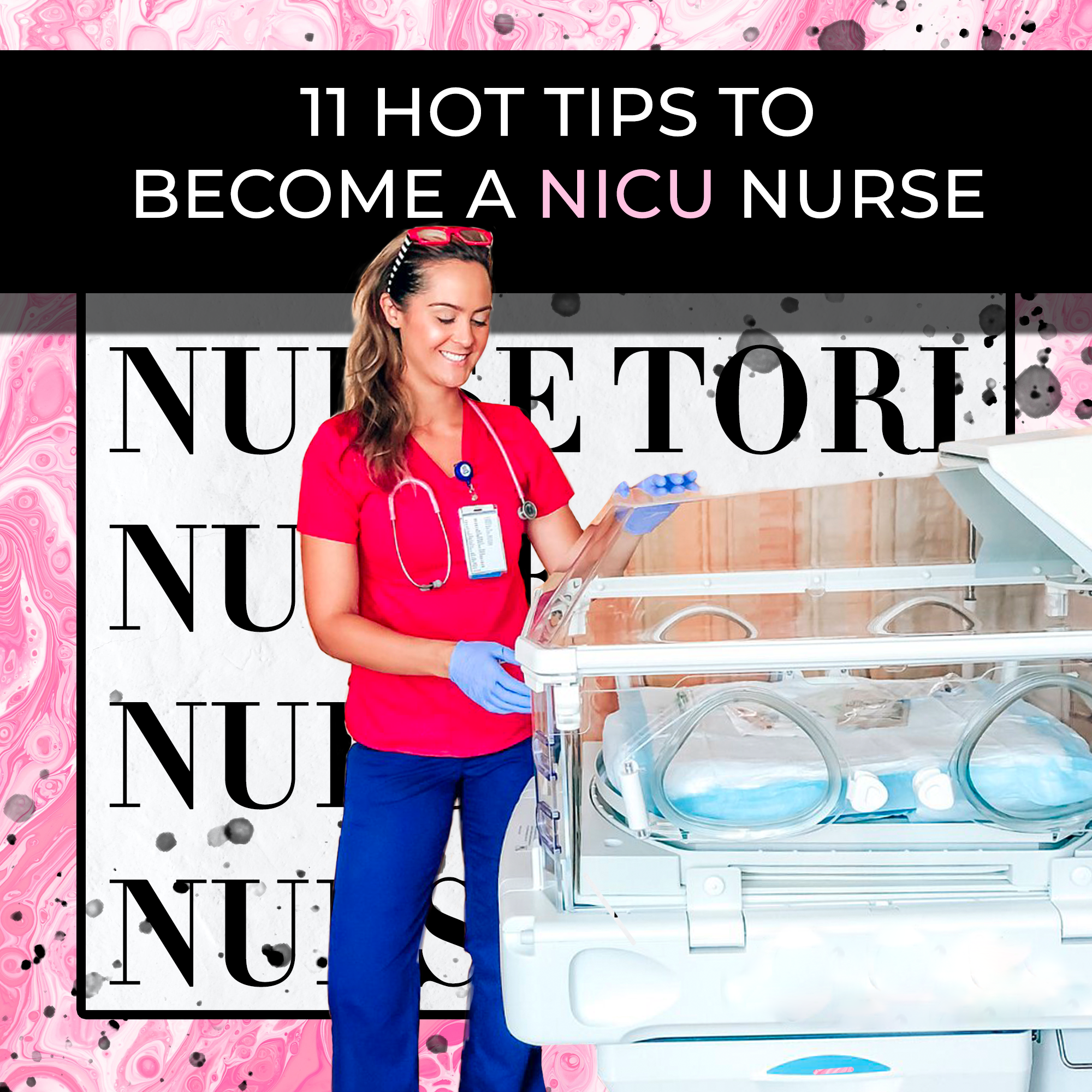 ---
♡ NURSE INTERVIEW TIPS & TRICKS
---
Yes I do! TOO MANY TO COUNT! After spending 8 years in the nursing field and much time applying for jobs (New Grad positions, Travel Nurse positions, Per Diem & Staff Nurse) I have certainly had my fill of the Nurse interview process. Filling out the online applications can be overwhelming, but landing that interview is so exhilarating! Here are some Nurse Interview Tips and Tricks I have learned along the way. Head over to check out all of my pearls of wisdom, resources, Nurse Report sheets, SBAR pintables, interview prep tips, resume writing, tips & tricks
---
---
Was it Hard to become a nurse?
​
Yes! It was hard. (for me)
Point blank, No sugar on top.
It was the hardest thing I have had to do in my career.
I struggled to get into nursing school and also throughout nursing school journey.
I have been very open about this via Instagram, Podcast & brining it all here as well. My journey to becoming a nurse was difficult.
I was NOT an "A" student. I struggled in school. But I knew NURSING was my calling!
So what did I do to make it happen?
How did you become a nicu nurse?!​
​
I PUT THE BLINDERS ON AND PUSHED THROUGH WITH GRIT, BLOOD, SWEAT, AND TEARS (LITERALLY).
♡♡♡♡♡♡♡
​
Much of my journey to become a NICU nurse took PLANNING.
​
I made a plan! And a back up plan!
And a back up for the back up plan!
Plan A (Nursing school)
Plan B (Accelerated Programs)
Plan C (Community College)
Plan D (Out of State Programs)
I retook classes! If I got a B,
I went back that summer to get the A!
Yes, I did this for several classes!
​
I networked. I got to know nurses in nursing school, volunteered at the nursing school,
made face to face meetings on how to improve my portfolio & application
I buckled down. I put the "blinders" on! Minimal social life, missed out on family functions,
broke up with baggage, and focused on what I wanted. Honestly, it was really refreshing.
​
And I am here to tell you, the hustle was worth it!
I sacrificed, missed family & friend events, even missed holidays to study or catch up on Nursing school projects! However, I have now been a nurse for 6 years & starting my side gig "Blogging!"
I am so thankful for the hard journey
I came through to become a nurse.
​
I am here to tell you (if you know you are meant to be a NURSE), GO FOR IT! It was a true struggle for me due to cost, impact on schools, competitive applications, academic struggle, low morale, etc. I had heard it all and felt it all! But I knew I was quick on my feet, valuable to someone, and would find my way.
​
​

Tori Meskin BSN RNC-NIC. Nurse. Blogger. Podcaster. Tori has been a clinician since 2012, works in acute care/inpatient NICU & Pediatric settings in southern California. She is a blogger, podcaster, NICU & Pediatric Critical Care RN, Sponsored Capella University MSN student, a Barco Uniforms Ambassador & Brave beginnings Ambassador. She has obtained her National NICU Nurse Certification (RNC-NIC) & has previously worked as a travel nurse, pursuing bedside experiences in several NICU settings. Follow her as she shares her NICU journey married life & juggles work, school, content creation, & brings you top notch Tips & Tricks along the way. Find her at www.tipsfromtori.com or info@tipsfromtori.com